Tule mukaan kierrättämään Suomi-yhteisömme hyväksi!
Ensi kerralla Suomi-koulussa 15.10. kierrätämme tarpeettomia tai pieneksi jääneitä lastenvaatteita. Tuo omat, hyväkuntoiset lastenvaatteesi ja hae tilalle uusia. Tilaisuus järjestetään Suomi-koulun hyväksi. Voit jättää 50 penceä-2 puntaa/vaate keräyskuppiin mielesi mukaan.
Vaatteet voi tuoda ison salin korkealle tasolle lajiteltuina iän mukaan. Tuon myös rekkitangon ja henkareita takeille ja muille vaatteille.
Vaatteiden esillelaitto ja päivän päätteeksi myymättömien vaatteiden haku on lahjoittajan vastuulla. Kirkolle jätetyt vaatteet viedään keräyslaatikkoon.
Tilaisuus on avoin koulupäivän loputtua klo 12.30.-13.30. myös koulun ulkopuolisille ihmisille. Levittäkää sanaa ja tuokaa ystävänne mukaan kierrättämään!
Nähdään lauantaina 15.10. Suomi-koulun ja kierrätyksen merkeissä!
Loppuvuoden koulupäivät ovat:
15.10.
12.11.
3.12.
14.1.
4.2.
4.3.
1.4.
6.5.
27.5.
17.6.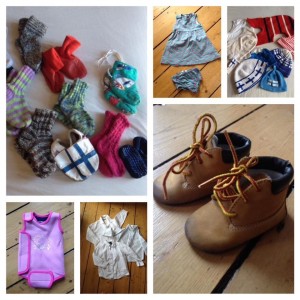 We will be recycling children's clothes during the next Saturday school on the 15th October. Bring your unwanted good quality children's clothes or pop over to grab a bargain! The clothes will be available in the big hall and any profits will go towards the school. The clothes are priced at 50p-£2/item.
People from outside the school are welcome to come and find bargains after the school between 12.30pm and 1.30pm.
See you on the 15th!
The remaining school dates for this academic year are:
15.10. Note date change due to teachers' training in London!
12.11.
3.12. Santa's visit
14.1.
4.2.
4.3.
1.4.
6.5. May Day mayhem
27.5.
17.6. End of term summer party
See you on the 15th!
Kaisa and the rest of the School committee
P.S. Myös aikuisten vaateiden kierrätyspäivästä on ollut puhetta. Laittakaa korvan taakse!
P.S. We may recycle adults' clothes in the future too.